Save the Restaurants!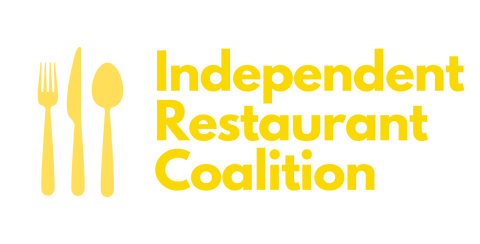 Follow this LINK for more information, and to find your local legislator
MISSION
The Independent Restaurant Coalition (IRC) was formed to the save local restaurants affected by COVID-19. IRC is founded on the simple belief that there is power to affect legislative change if we unite our voice.
This national movement is quickly growing and EVERYONE is welcome to join. Together, as small businesses across this country, we represent up to 4% of the nation's GDP.
For the 11 million people across the country employed by restaurants -- and the hundreds of millions of workers up and down the food supply and delivery chain who depend on restaurants -- these small businesses cannot fail.
QUICK FACTS
Restaurants generate $880 Billion per year in revenue.

90% of that revenue gets paid out directly to our employees, suppliers, and for rent.

The economic activity generated by restaurants account for 4% of the nation's GDP.

The federal government can use the restaurant industry's existing systems to
administer aid across the many concomitant businesses that rely upon us to stay afloat.