Restaurants Employee Relief Fund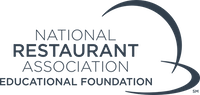 Information about the following grant below!
Through the Restaurant Employee Relief Fund, we will provide grants to restaurant industry employees who have been adversely impacted by COVID-19, financially, whether through a decrease in wages or loss of employment.
Apply for a grant starting Thursday, April 2, 2020
Each approved grant is $500, one per person only
See Eligibility Requirements listed below
Grants will be awarded on a first-come first-served basis to those individuals who meet the prescribed eligibility criteria, as reviewed and verified by the National Restaurant Association Educational Foundation (NRAEF). Subject to the availability of funds contributed to the Fund, a one-time grant of $500 will be disbursed directly to the applicant following NRAEF's review and confirmation that their submitted application meets the prescribed guidelines. Awards will limited to one grant per person.